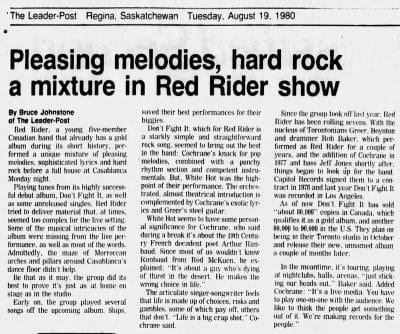 Red Rider. a young five-member Canadian band that already has a gold album during its short history performed a unique mixture of pleasing melodies, sophisticated lyrics and hard rock before a full house at Casablanca Monday night.
Playing tunes from it highly successful debut album. Don't Fight lt, as well as some unreleased singles, Red Rider tried to deliver material that, at times. seemed too complex for the live setting. Some of the musical intricacies of the album were missing from the live performance, as well as most of the words. Admittedly. the maze of Morroccan arches and pillars around Casablanca's dance floor didn't help.
Be that as it may, the group did its best to prove it's just as at home on stage as in the studio.
Early on, the group played several songs off the upcoming album. Ship, saved their best performances for their biggies.
Don't Fight It, which for Red Rider is a starkly simple and straightfoward rock song, seemed to bring out the best in the band: Cochrane's knack for pop melodies, combined with a punchy rhythm section and competent instrumentals. But, White Hot was the highpoint of their performance. The orchestrated, almost theatrical introduction is complemented by Cochrane's exotic lyrics and Greer's steel guitar.
White Hot seems to have some personal significance for Cochrane, who said during a break it's about the 19th Century French decadent poet Arthur Rimbaud. Since most of us wouldn't know Rimbaud from Rod McKuen, he explained: " It's about a guy who's dying of thirst in the desert. He makes the wrong choice in life."
The articulate singer-songwriter feels that life is made up of choices, risks and gambles, some of which pay off, others that don't. " Life is a big crap shot," Cochrane said.
Since the group took off last year. Red Rider has been rolling sevens. With the nucleus of Torontonians Greer, Boynton and drummer Rob Baker, which performed as Red Rider for a couple of years, and the addition of Cochrane in 1977 and bass Jeff Jones shortly after, things hegan to look up for the band. Capitol records signed them to a contract in 1978 and last year Don't Fight It was recorded in Los Angeles.
As of now Don't Ftght It has sold "about 80,000" copies in Canada, which qualifies it as a gold album, and another 80,000 to 90,000 in the U.S. They plan on being in their Toronto studio in October and release their new unnamed album a couple of month. later.
In the meantime . it's touring, playing at nightclubs, halls, arenas, "just sticking our heads out," Baker said. Added Cochrane: "It's a live media. You have to play one-on-one with the audience. We like to think the people get something out of it. We're making records for the people.