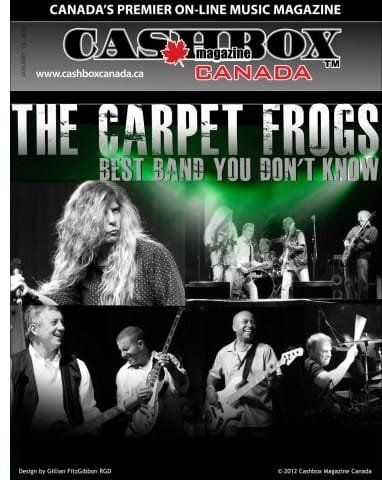 There are few crack elite live and studio session bands in the country that are bands for hire. They learn new material all the time, translating it with skill, accuracy, and speed, bringing out the originality and authenticity in all the music they play.
One such unit is The Carpet Frogs. I talked to founding members Jeff Jones and Nick Sinopoli.
NS: I was in a tribute band at the time "Just Alice". We put The Carpet Frogs together for the closing of the Gasworks, Jan. 9th 1993. All the bands came down and played; Saga, Triumph, Helix, Platinum Blonde, and Coney Hatch.
JJ: I joined Red Rider in 1978, left in 1985, joined the Infidels and after that formed The Carpet Frogs. We did the Gasworks closing and Sammy Culpepper's Tuesday night jam for beers and the band has been going ever since. It has been 19 years.
MW: When did the Carpet Frogs become this crack studio session and live backing band?
JJ: During the 90's at Lulu's Roadhouse. They had a house band. We played between the house band and the main acts as an opening act for everyone that came through. Lots of the people that came to Lulu's wanted us for corporate gigs.
MW: Who was the first artist to call wanting to use The Carpet Frogs as a backup band and why?
JJ/NS: It was Burton Cummings. That was 1998. We played a charity event for the CHUM Christmas Wish Foundation and were on the same bill as Burton. In those years he was playing solo.
We were the clean up band that would play the classic tunes for dancing after the featured performer. Sam Boyd, who was working with us and Burton, told Burton that he should hear this band The Carpet Frogs, knowing he would like us.
Burton was backstage when we went on; we were playing The Beatles "Nowhere Man". Burton said, "Yeah, I will come out when they start playing", and Sam Boyd said, "No they are playing.
That is the band on stage now". Burton thought he was listening to a recording by the Beatles. So he came out and stood there mouth agape in front of the stage and then he climbed on stage and asked to sing along on the next song. The night went like that. He never left the stage. But it was not until New Years Eve of 1999 that we got together with Cummings as his band and that was it.
SK: We've done four records and a few DVD's with Burton now and have a new live release recorded at Massey Hall coming out this year. We are on tour with Burton all over America this year as well.
MW: What about Randy Bachman?
JJ: Randy played with us; with Burton from 2005-2009. We did all the Bachman-Cummings shows.
Bachman had this to say about the band "The first criteria I look for in a musician is personality and character-then musicianship and team player attitude. That being said, The Carpet Frogs are one of the nicest bunch of great musicians and band around today. They can cover any style of music and vocals imaginable covering 5 decades of rock and roll. Their reputation is growing with every gig and deservedly so. In my book, they are the best there is."
MW: What's it like being a band on the run, band for hire?
JJ: Great, you get to try different things. If people want a featured vocalist at a gig we are doing it's easy for us to accomplish. We just have a knack for ripping off a cover in a way that it's real and convincing. Last year we were called to do a Neil Young tribute at the last minute when Neil Young pulled out. They asked us to do a bunch of Neil Young songs with Rik Emmett. He found his comfort zone with the band and it was great.
The more we do it, the easier it becomes. We are all students and fans of rock and all kinds of music. So when the opportunity comes to recreate some of our favourites, we are all over it!
MW: So if an artist wants to tour Canada and cannot bring their own band are The Carpet Frogs the ones to call?
JJ: Absolutely! We can make the music and touring part easier for you as a cohesive unit.
Juno Awards April 2005: Juno Awards April 2005Juno Awards April 2005: Juno Awards April 2005MW: Just before Christmas, I got a phone call from Jeff Jones asking me to host a charity gig, being put together by The Carpet Frogs at the Sound Academy, in association with the Mighty Q107. 'Yes' was all I said. It was a brilliant night with equally great performances. "Imagine, Celebrating the Music of John Lennon", pay what you can, donate a can.
SK: I just had a whim and I wanted to turn the day into a positive event and try and help someone less fortunate than us. So I just got a hold of Jeff and he said great. We called you, Murray Mc Laughlin, Gowan, Billy Newton –Davis, Nick Walsh, Russell Dwarf, Paul James, Terry Draper of Klaatu, Bayb, Luke Mc Master, Frank Soda from B.C. and everybody came through with flying colors.
Billy Newton-Davis came in a cab, got on stage and killed "She's Leaving Home". We never played it with him or any of the performers before. That's what makes us The Carpet Frogs!
MW: So true, a great night of music with the greatest unknown band in the country but you have seen them hundreds of times backing somebody else, opening for somebody else, doing it with an ease that is now legendary. That's what makes them the Carpet Frogs, band for hire, band on the run.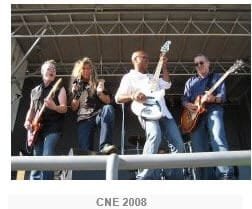 The Carpet Frogs are:
Nick Sinopoli – Percussion and vocals
David Love – Guitar and vocals
Jeff Jones – Bass guitar & Vocals (Worked with Tom Cochrane, Ocean, Gowan & Infidels)
Michael Zweig – Guitar & vocals
Sean Fitzsimons – Drums and vocals