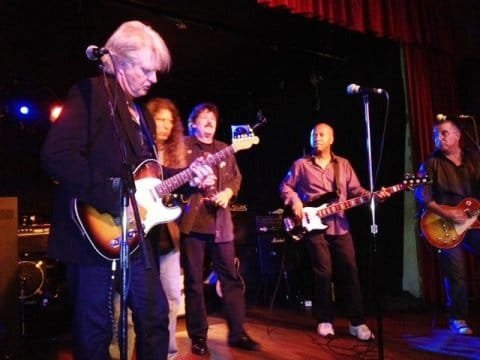 Back in the day, I was the road manager for the best power pop punk band in the country, The Pointed Sticks from Vancouver. It gave me an automatic backstage pass in the west coast music scene. That was my introduction to Jeff Jones. In 1980 the other black guys in rock 'n' Roll were Jeff Jones with Red Rider and A-Trane Boynton with The Payolas.
Years later we became fast friends and are planning to record a duet, Genesis "More Fool Me".
He told me of his father and his life he coming to Canada from Chicago; after a visit he determined that Canada was for him and his family so he packed up and moved. As a foreign jazz musician, today with the current immigration musician head tax of $425.00 per musician he would have never been able to afford to come to Canada, that would have robbed us of one of Canada's greatest musicians. He was in Ocean and recorded their international hit "Put your Hand in the Hand" by Gene MacLellan in 1970.
Tom Cochrane and Red Rider, The Infidels, The Carpet Frogs, Burton Cummings, Randy Bachman and Lawrence Gowan. He has had a ringside seat to the evolution and coming of age of Canadian music as an active participant. He is not just a great bass player whose bass lines are the hallmarks and hooks of the Canadian Rock-n- Roll Sound, but so much more.
So it was only fitting that friends, past and present band mates and 3 members of the "Order Of Canada" showed up to Revival Club on a Sunday night to celebrate Jeff "Jonsey" Jones on his 60th Birthday!
The evening started with Burton Cummings taking the stage with The Carpet Frogs doing a great set of classics and covers. The house was rockin' as Tom Cochrane and Ken Greer hit the classics hard in a small club with the sweat flowing and we all danced the night away. The one and only Molly Johnson joined them on stage for "Life is a Highway", her voice still great. At the finale, Tom Cochrane called Burton Cummings up and the last set was rock 'n' roll covers that you would have never expected. Every musician played like their life depended it; like they were all 16 again.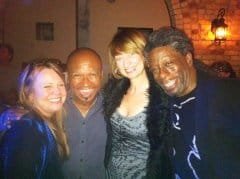 Burton was impassioned, and singing every note perfectly, just like when I had seen him back in the 70's with the Guess Who. Tom Cochrane, Ken Greer and Molly Johnson were such a pleasant surprise that the 'packed to the rafters' crowd went wild. Definitely the best birthday party ever for someone so deserving. Our 'Jonsey' is worth everything to his friends, family and music. He is music and we love that; just imagine all the music Jeff Jones has contributed to and heard each day across the country.
We are better for his decision to come to Canada. Happy Birthday Jeff Jones !